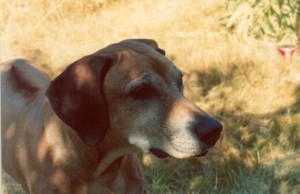 Trefonen Baringo "Jenny" had refined manners and charisma – a really English well-bred lady! Beautiful and agile, but not very cuddly.
Born in England in 1965 and bred by Miss Joyce Dumville-Lees.
Jenny had two litters by Int Nord Ch Duke.
She also had three puppies by Int Nord Ch Roseridge Red Slim.
In the show-ring she got two CC:s and one CACIB. In youth class the judge gave her the following critique:
"A really high class typical you bitch. Good head, eye and expression, excellent ridge, good body, perfect sound and stands high in the breed in any competition. Mentality perfect."
Some more pictures of Jenny: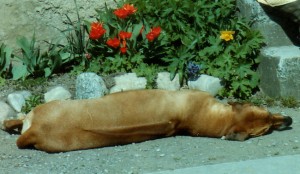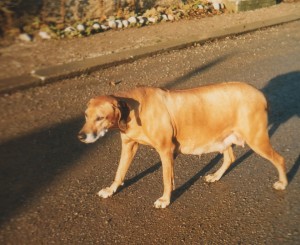 Jenny in whelp in 1971
In Jenny's pedigree you will find the most outstanding ridgebacks. A pedigree you would do anything to have today!
Sire: GB Ch Hunter of Owlsmoor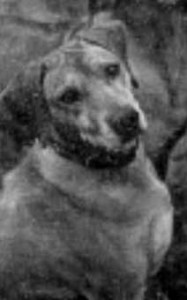 Dam: GB Ch Rockridge Fair Lady – imported from South Africa, bred by Mr/Mrs Howard, where she won
5 S.A. CCs and just missed winning her S.A. title.
GB Ch Hunter of Owlsmoor

GB Ch Machemba of Manscross

Manscross Chevalier

of Hub

Chum of Hub

Diana of Hub

GB Ch Manscross Simbawa Sheba

Murlin of Manscross

GB Ch Merril of Manscross

GB Ch Melantho of Manscross

Murlin of Manscross

Tiddler of Templewood

Sheba of the Safari

GB Ch Merril of Manscross

Just of Banda

Manscross Bridget of the Hub

GB Ch Rockridge Fair Lady

US Ch Tau of Voortrekkerhoogte (L)

US Ch Swahili´s Jeff Davis

Orulo de Holi

Elizabeth

Swahili´s Dixie Victoria

SA Ch Little John of Gazeley

Petra van Goodehoop

SA Ch Rockridge Princess

SA Ch Rufus de Holi of Gazeley

SA Ch Simba of Meyendell

SA Ch Glenwoods Calo of Gazeley

SA Ch Glenwoods Julia

SA Ch Simba of Meyendell

Glenwoods Beauty of Netherton