The first litter in the kennel was born 15th of August, 1967
Sire was IntUCh NordUCh Duke and dam was Trefonen Baringo "Jenny".
The litter consisted of two boys and two girls.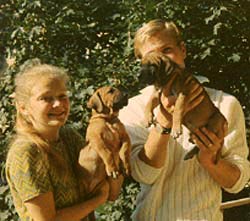 Roseridge Pedro, multi crowns
Roseridge Simba
Roseride Anna
Roseridge Dixie, multi crowns
Pedro was sold to an artist, Agneta Herrgård, who made some lovely drawings of her dog.
We got some lovely photos of Roseridge Anna, aka Nimba, in a letter: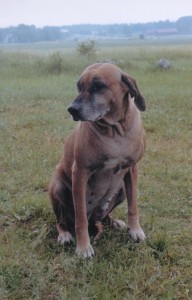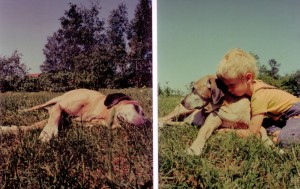 "Säffle 2006-03-01
Hej Sonja!
Nimba blev ganska fort grå runt näsan men sedan blev det inte så mycket mer. Hon var inte förtjust i barn och accepterade bara barnbarnen och de kunde leka med henne utan att hon blev sur.
Hon var makalöst frusen av sig och kunde hänga på ugnsluckan när mor bakade bullar eller luta sig mot värmeelementet. På natten skulle hon ha en filt över sig och det var ett väldigt gnäll när hon bytte sovställning om det inte kom någon och la över henne filten igen. Vi skojade om att det var hennes afrikanska arv som gjorde henne frusen.
Jag köpte mig en schäfer -69 och hon och Nimba blev aldrig vänner. När schäfern blev mentalt mogen så rök de hop ordentligt och vi kunde aldrig ha dem samman mer. Som resultat av det slagsmålet så fick min far ett bett i lillfingret och Nimba bet en hörntand genom örat på schäfern. Det såg ut som ett konduktörsklipp och hårstråna blev vita där.
Nimba var lat av sig hela livet och hon orkade inte med min vilde till schäfer som ville jobba jämt. Det skulle vara lugnt och tyst runt Nimba då trivdes hon bäst. Hon kunde däremot sätta en hiskelig fart om så behövdes. Hon kunde utan problem hålla jämna steg med en hare över en äng, fast haren lurade ju bort henne med ett sidoskutt.
Nimba var otroligt förtjust i bröd och gröt. En gång så bjöd jag henne på en stor smaskig semla. Döm om min förvåning när hon snabbt tog den i munnen (hon var väl rädd att jag skulle ångra mig och ta tillbaka den) och svalde den hel.
Hon var snygg i unga år men blev med åldern tämligen rund om magen. Dagens rhodesian är lite smäckrare än vad Nimba och hennes brorsa var. Nimba hade en otroligt snygg och jämn ridge. Jag har aldrig sett en så snygg ridge på någon annan.
MvH
Kerstin Molinder Säffle"
Duke and Jenny had a second litter in May, 1968 resulting in 3 dogs and 4 bitches. Unfortunately the combination produced a lot of mismarked ridges and for that reason two of the bitches were put down.
At that time a puppy with mismarked ridge was not registered, so only one in the litter was registered at the Swedish Kennel Club. Her name was Roseridge Sasa
IntUCh NordUCh Duke and IntUCh NordUCh Sari of Dudwell produced a lovely litter in September, 1968, consisting of 5 boys and 5 bitches.
Four bitches were put down due to faulty ridges. One dog-puppy ("Baloo") was not registered
S505164/69* Int Nord Ch Roseridge Haijk
S505165/69   Nord Ch Roseridge Jim
S505166/69* Int Nord Ch Red Slim
S505167/69* Nord Ch Roseridge Slim
S05168/69     Roseridge Chemba
Roseridge Haijk was sold to Loustigens Kennel, owned by Loulou and Stig.
Nord Ch Roseridge Jim was sold to another new breeder in the country. Africana's kennel, owned by Anita Gradin, has produced a lot of lovely ridgebacks based on Roseridge Jim.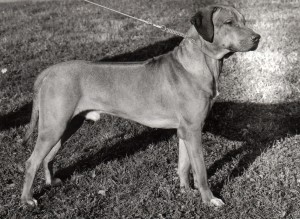 Nord Ch Roseridge Slim was used in Roseridge kennel before he moved to US
and sired a litter in 1970 out of Aldonnels Alona. It was now that the interest in the breed awoke and the litter was the start for many breeders in the country. One of the puppies Andy came back to the kennel when he was 8 years old and was showned with two Cc:s. When he was 10 years old he sired a litter to IntUCh NordUCh Akamba.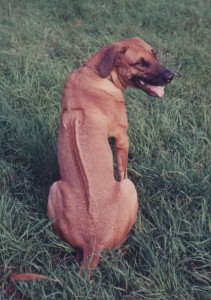 Roseridge Red Slim came back from his owner to live in the kennel. Olle Rosenqvist showed him to International and Nordic Champion.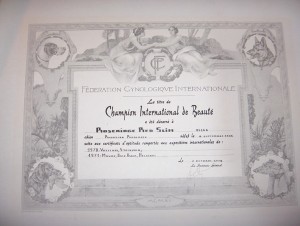 IntUCh NordUCh Roseridge Red Slim's pedigree:
INT UCH NORD UCH
Duke
Golden Glory
Tigri Pellinore
Suster
Judy Of Endrick
Lanet Everbright
Kim Of Endrick
INT UCH NORD UCH
Sari Of Dudwell
GB CH
Mentamery Monarch
GB CH
Owslmoor Sundown Hustler
GB CH
Mentamery Marandella
Dudwell Chipongwe
N'Tombi Of Owlsmoor
Golden Zita
The highlight in Red Slim's show career was Group-Reserv at Stockholm International Show in 1976.
Slim was a gentleman, always reliable and with a great sense of humour.
He sired 6 litters, 38 puppies (22 dogs and 16 bitches) out of the following bitches:
SECh Anitra, 4 September 1971, 8 puppies. Acquaint's kennel
Trefonen Baringo, 7th December, 1971, 3 puppies, kennel Roseridge
SECh Anitra, 5th April, 1973, 6 puppies, Acquaint's kennel
SUCh NUCh Amber, 23rd July, 1973, 6 puppies, Haibas kennel
NordUCh Cora, 4th November, 1973, 5 puppies, breeder Oda Angeldorff
IntUCh NordUCh Janak Kelly, 7th April, 1974, 10 puppies, Loustigens kennel
On her 30th birthday Olle gave Sonja the bitch Alexa, nick-named "Aiya", granddaughter to IntUCh NordUCh Roseridge Red Slim.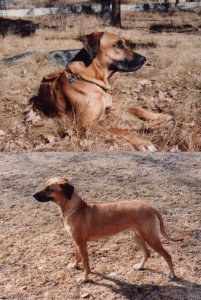 Sonja has fallen in love with IntUCh NordUCh Sari of Dudwell and contacted the breeder to her sire GB Ch Mentamery Monarch who put her in contact with Mrs Susan Simper, Matabelle Kennels in England, which was the start of a life-long friendship. From Sue Sonja imported the beautiful bitch SEUCh NoUCh Umtali Assegai of Matabelle – "Giya"  in 1984, a bitch that started Sonja off in her breeding.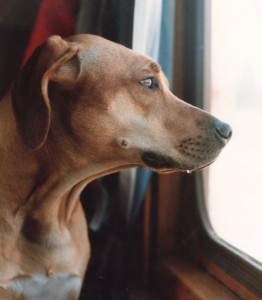 Giya had three litters. In her first litter by SEUCh NoUCh Afrikana's Zulu, she produced the lovely bitch SECh Roseridge Whirlwind – "Temba".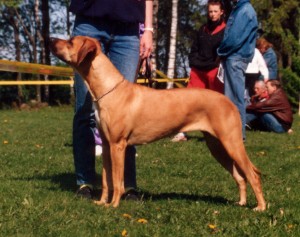 For Giya's second and third litter frozen semen from US Ch Broadway Danny Rose was used. The first litter produced Roseridge The Duke, making a big impact in the breed in Sweden by his three litters. His sister Roseridge Honeysuckle Rose "Salabim" stayed in the kennel. A great character and a joy to live with, she will always be one of my "all time high".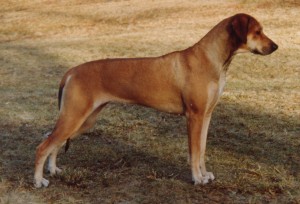 Salabim had three litters. From her first litter by NLCh Rydgeway Red Timber, SEUCh NoUch Roseridge RR "Hobby" stayed in the kennel.
Her younger full brother Roseridge Regent was exported to Matabelle Kennels in UK. He became the Top Sire and his son Top Puppy in 1993.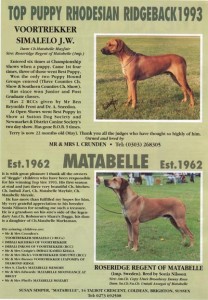 One of Reggie's sons – Kiromol Kambui came to live with Roseridge family in Sweden  sired two litters. One litter out of SEUCh NOUCh Roseridge RR, from which Roseridge Reflexion "Meja" stayed in the kennel.