Int Nord Ch Duke S2692/64
Född i Skandinaviens första ridgebackkull – 50 år sedan!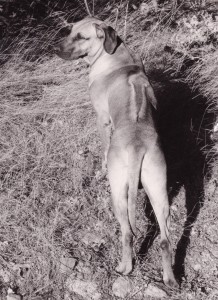 Duke was born December 11th, 1963, bred by Bengt Florén, honorary member of Swedish Ridgeback Club.
Duke died in cancer only 6,5 years old.
He was named Simba in his pedigree, but as he had the noble look of a duke, Olle persuaded the Swedish Kennel Club to change his pedigree name to Duke.
Duke was the first ridgeback being x-rayed in Sweden and found free of hip dysplasia. Elbows were not x-rayed at that time.
He sired totally 14 puppies (9 males and 5 bitches) out of two bitches:
Trefonen Baringo 1967 och 1968
Int Nord Ch Sari of Dudwell 1968
Duke obtained his international champion title on the following shows:
Helsingfors, May 1965, Hans Lehtinen
Stockholm, October 1965, Bertil Sted-Gren
Elverum, November 1966, Ulla Segerström
Stockholm, November 1967, Olav Roig
On his first show in puppy class the English judge gave him the following critique
"First class puppy of much promise. Good head, dark Eye, sound legs and feet. Well defined ridge. I hope he grows a Little more at the shoulder, which he has time to do. A Little straight in stifle."
Parents

Grand-Parents

3rd Generation

4th Generation

Golden Glory
(import Kenya 1962)

Tigiri Pellinore

EA Ch Tigiri Gawen

EA   Ch Bandoola of Thornbury

Woodhill Bridget

Tigiri Evalina

Chota

Tigiri Guenever

Suster

Tigiri Ganhardin

EA   Ch Bandoola of Thornbury

Woodhill Bridget

Wingfield Asali

EA   Ch Bandoola of Thornbury

EA   Ch Chandy of Mashonaland

Judy of   Endrick
(importKenya   1961)

Lanet Everbright

EA   Ch Bandoola of Thornbury

SA Ch Rufus de Holi of Gazeley

SA   Ch Thornbury´s Biscara

Lady Vickie of Mutumaiyo

Viking of Mutumaiyo

Viva of Mutumaiyo

Kim of Endrick

EA   Ch Bandoola of Thornbury

SA Ch Rufus de Holi of Gazeley

SA   Ch Thornbury´s Biscara

Griffin

Hippenscombe Tiger

Hippenscombe Gift