JUDGING APPOINTMENTS:
Denmark
4 July, 1992 Danish Rhodesian Ridgeback Club, Open Show
BOB Peacock Shakuntala (Jabulani x Torhusets Tan Mercia)
BOS Ch Tuasiwa's El-Chack H'Lobo (Ch Famous Chaka Makaranga x Torhusets Fairfax Ella)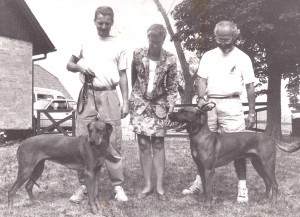 United States
1993 Bucks County Kennel Club, Sweepstakes (read more below)
England
1996 Southern Rhodesian Ridgeback Associaton, Open Show
2015 Southern Rhodesian Ridgeback Association, Open Show
Sweden
1993 Swedish Rhodesian Ridgeback Club, Viskan Open Show
1995 Swedish Rhodesian Ridgeback Club, Karlskoga Open Show
2003 Swedish Rhodesian Ridgeback Club, Ludvika Open Show
2007 Swedish Rhodesian Ridgeback Club, Stockholm Open Show puppies only
2009 Swedish Rhodesian Ridgeback Club, Örebro Open Show
2011 Swedish Rhodesian Ridgeback Club, Stockholm, inspection – dogs not to be shown due to faulty ridges etc.
2013 Swedish Rhodesian Ridgeback Club, Stockholm, inspection and puppies
Finland
2001 Finnish Rhodesian Ridgeback Club, Open Show
Bucks County Kennel Club Supported Entry, May 8, 1993
By Doreen Kent, Relion Kennels
1985 was the first year Bill and I supported the Rhodesian Ridgeback entry at the Bucks County Kennel Club Show. The first three years we had entries in the 20's and 30's. In 1988 we introduced Sweepstakes, and our entry jumped to 60. From 1988 through 1992, our entry averaged 63 – Sweepstakes averaged 25.
Then came 1993!! Sweeps entry – 37! Regular entry – 83! It's becoming more like a regional specialty than just a supported show.
Sonja Nilsson, our Sweepstakes judge this year, hails from Stockholm Sweden. She acquired her first Ridgeback in 1969. Her kennel name is Roseridge, and she has been a mainstay breeder in Sweden for over 20 years. She made her first trip toUnited States in the fall of 1988 to visit Nancy Glenn inPhoenix, Arizona and to bring frozen semen from "Dagga" back to Sweden. Unfortunately, this "pupcycle" breeding did not take. Nancy Glenn suggested that Sonja consider using a "Dagga" son. Sonja researched that avenue and selected Ch Copyline's Broadway Danny Rose, bred by Rita Bass and owned by Nancy Oglesby. Sonja once again travelled to theUSA in August, 1989, to visit with Nancy.Nancy took Sonja to visit with us at "Camp Kent", and I was most impressed with this quiet, soft spoken, gentle, tall lady who spoke English so lyrically. She had an exceptionally good eye – a positive nature in her critiquing all the dogs she saw. She carried a camera and a video recorder and whiled away the time asking questions, studying, picture taking, and video recording. Her knowledge, demeanour, and genuine interest in the American Ridgebacks greatly impressed me. And, she was one of the kindest people I had ever met around my dogs. A few of them, who always check out strangers carefully before making friends, readily abandoned their usual aloofness and struggled to capture her attention.
Sonja financed her own way to theUSAto judge our Sweeps entry. Of course, working for SAS Airlines helps a lot. But nonetheless, it was an expense and imposition for her, and I truly appreciate her accepting the assignment, and I just wanted all the exhibitors to know a bit more about her.
BEST IN SWEEPS Ch Sienna's Seminole Wind/D. Danford
BEST OF OPPOSITE IN SWEEPS Ch County Line's Thyme For Change/R. Macmullin and L. Ruth. Bred by Ms. Lisa Arvin.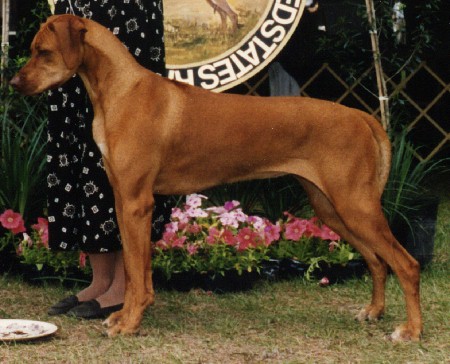 Sienna's Seminole Wind